A few weeks ago, I did something I promised myself I wouldn't do. I fell in love with a house.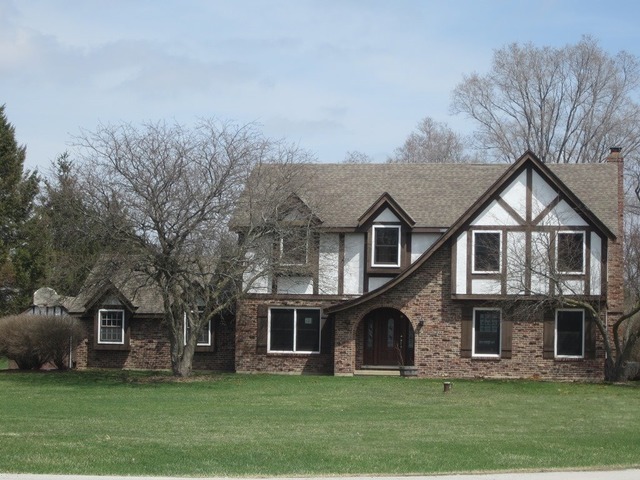 When we initially started this journey, I told myself I wouldn't start looking at homes because I knew what would happen. Doug agreed and wanted to focus on selling our house first.
You see, I suffer from an affliction called "Falling In Love With Every House Syndrome."
One house came along last January (before we even had ours for sale by owner!) and we took a look.
Awesome house. Just not perfect. But I still twisted it and turned it around in my head to make it perfect for us. We let it slip by and it went contingent. Wah wah. Cue Ann Marie moping and complaining.
So we put our house for sale by owner while my husband finished his real estate tests and certification and all that. Had a few showings, some promising, some offers, but nothing panned out.
Just as he became a realtor, we looked at another house. I drove through the neighborhood a few times beforehand, went through the pictures over and over, and even showed some friends and family. It needed a lot of work. But I told myself (and Doug) that if we got it for the right price, it would work. But it went contingent so we let it go and wah wah. Cue Ann Marie moping yet again.
We put our house for sale with Doug as our realtor about a month ago.
Then we found another house.
And we took a look, and oh snap. It was the one. I was 100% convinced. It oozed charm. It was beautiful and only needed us to do things we could handle. Things like moving walls and painting that were tedious but doable after time. It was move in ready and had huge bedrooms and walk in closets in every room and large family space and a four seasons room and on over and acre and oh wait... Am I rambling? Maybe. But it was pretty amazing.
We took another look and I drove past it every chance I could. The kids started to get excited too. We had originally started a half hour away but after seeing what we could afford in that area, we made the decision to stay close by. This house made us realize that we want to stay and be close to our friends, family, church, schools, farms, etc etc etc...
So we put in an offer.
And less than 24 hours later, we got a call. There was another offer and we both needed to give our highest and best before Friday.
So we raised our offer. And right before the deadline, raised it again.
Because gosh darn it, this house WAS PERFECT FOR US. We convinced ourselves of it. We prayed and told ourselves that it was in God's hands, that what's meant to be will happen and we wouldn't think twice after that. In excitement we told family and friends and asked for their prayers.
But right then, something else happened.
It's almost like a switch flipped on. I got to work remodeling everything in my head, I was picturing our stuff in the house. I looked up Tudor landscaping and paint combinations. I got excited at the thought of hydrangeas and peonies. I looked through our belongings with a new eye thinking about what I could let go of and what we would need for certain places in the house. I knocked out walls and installed new (but secondhand) windows. I painted cabinets and bought appliances and picked out the perfect pink curtains for Lily's room.
I fell in love with the after.
I fell in love with the before of the house and I fell in love with what it would become. What equity we could build. The little pretend future life we'd live there. The parties we'd throw and the food we'd gather over.
I didn't want someone else to have that before and after, I wanted it all for myself.
I didn't imagine the hard work and the painting and the dust and disturbed naps. Or the painting. Or living with it for three years because we are saving up for a project. And the painting. "Oh gosh my hand is going to fall off when am I ever going to be done painting!??!?!!?"  Fast forward two weeks...
We didn't get the house.
They decided to go into negotiations with the other people. If things fall through they'll contact us, but judging by the home and everything else, I'm thinking that there isn't a big chance of that happening.
The day we found out, I moped. I got all crabby. I was snappy and acting like a little kid.
Wait, what the heck was I doing?!
I told myself that *God's will be done!" but secretly wanted Ann Marie's will be done. Right now, right then. As much as I said I was trusting Him, I wasn't. I was like an impatient, spoiled kid trying to sweet talk the parent into doing what they wanted. "Buuuuuut Gooooooood?!?!?! I want THIS house! I don't want another house. I want THIS HOUSE. I want it now!"
That needs to stop and it needs to stop right now.
We are not made for comfort. And while applying that beautiful phrase to my silly internal stuggles seems, well, silly, it is true.
We are not made for comfort. Everything is not going to go our way 100% of the way. Any time I have had a plan in mind and things changed, they have turned out for the better. And by better I mean absolutely completely amazing and wow, I would have never DREAMED things would turn out this well. I never would have imagined we'd have four awesome kids in six years of marriage. I never pictured us fixing up this house. Nor did I picture myself working from home and getting to meet and connect with all of you. Or heading an organizing challenge and getting excited about garbage bags of crap.
We've had ups and downs and "oh crap, what are we going to do" situations. We've had really hard times. We've had serious sicknesses. But things have worked out and out of that uncomfortable-ness, the pain, has come beautiful things.
Things could always be worse and they could always be better. Instead of worrying, it's time we get uncomfortable and let it makes us great.
Please don't tell me you're sorry it didn't work out.
Because I'm not sorry. It's a silly thing to be upset about so I'm going to stop thinking about it. Bedrooms, yard, ehhhh whatever. I will be happy in just about any home that I get to share with my family.
And I won't stop falling in love with homes...
but I'm going to try to reign myself in and stop being silly about it. 😉