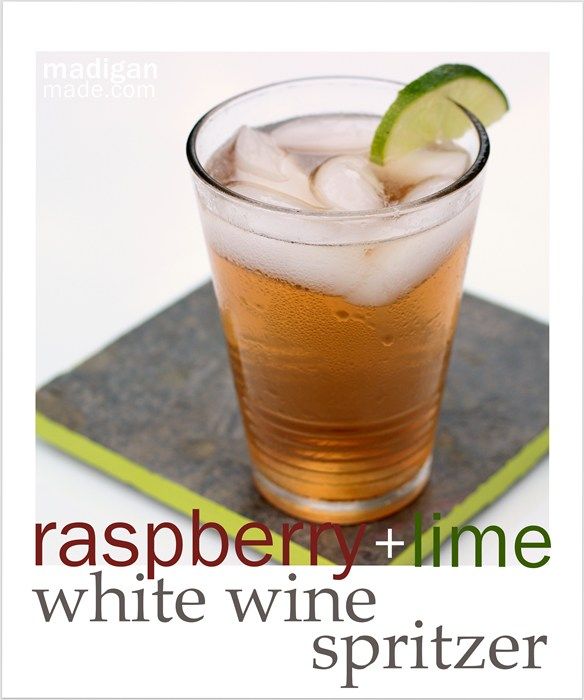 Hi WHBS readers! My name is Shannon and I blog over at Madigan Made… a place where I share simple, creative ideas.
I'm so excited to be joining Ann Marie's Summer Block Party and I wanted to 'bring a drink' to her event. :O)
Confession: I'm a "fair-weather friend" when it comes to the adult beverage I prefer. In the winter, I reach for a glass of good red wine. But in the summer, I lean towards a cool beer or a glass of chilled, white wine.
But in really hot weather, I like something even lighter. Last summer I tried to make beer spritzers and they were cool and tasty. So, this summer I thought I'd try mixing up a wine spritzer. 
I know… the phrase "wine spritzer" reminds you of something your great-aunt might order for Sunday brunch. Very proper. Very lady-like. Very much… not me.
But when I saw this recipe and the fact that it contained Chambord (a black-raspberry liqueur… one of my favs!) I had to try it. And let me tell you… This drink is not your grandma's spritzer.  The addition of the raspberry flavor made it taste like a berry mixed drink. Plus, this drink is so light and refreshing. It is perfect for a hot, summer day!
Raspberry & Lime White Wine Chiller
Adapted from this recipe from Gourmet, found on Epicurious.
Ingredients:
1 ounce raspberry-flavored liqueur  (i.e. Chambord)
1 ½ ounces chilled white wine
1 tablespoon fresh lime juice
Chilled lime seltzer 
Slice of lime for garnish 
Ice, one handful
Directions:
Pour the liqueur, lime juice and wine into a tall and pretty glass. (Because let's face it… a cute glass makes a cute drink, right?)
Add ice to the glass and top with seltzer. Mix with a spoon or stirrer. Add lime for garnish. Enjoy! 
Serves 1. (But I can bet you will want to make another one!)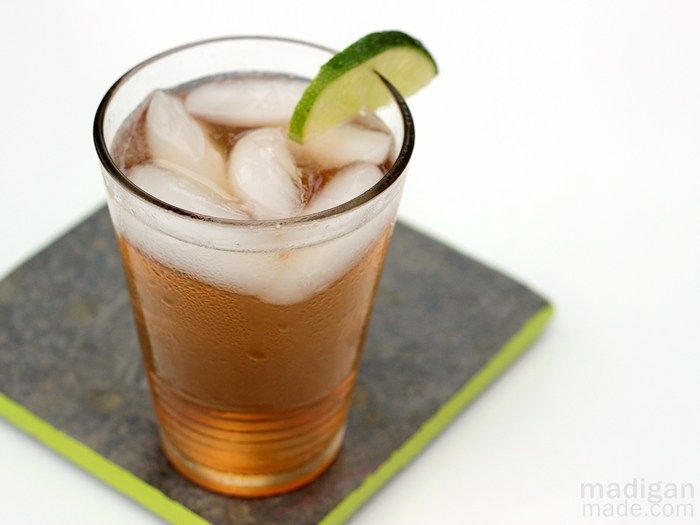 If you did not have white wine on hand, you probably could use an ounce of vodka as a substitute. But I like the flavor the wine added. The drink was very light and crisp… and certainly simple to make!
I love sharing easy recipes like this one with my readers. And I'd love it if you wanted to stop by Madigan Made some time. Y'all have an open invite for a drink! 🙂
I blog about simple crafts, DIY décor and easy recipes. If you crave simple creativity (or chocolate!), then please to stop on by and say hi!
...
I have to tell you, I have never owned a bottle of Chambord until about a month ago. Doug broke his foot and had a taste for some ice cream, so I returned with chocolate fudge ice cream and some Chambord. So good! Anywho, last night we took a walk around our yard and I made this to enjoy while out there.
I'm not usually a sweet drink gal, but this was really good! I subbed a sweet red, can't wait to try this with a moscato. Enjoy! Thanks, Shannon!!