Doug and I had some time to reflect back on all that 2017 had to offer. Once we started making a list of everything that happened, we laughed; to say that it was the busiest year of our lives would be an understatement. So many projects and things happened that I didn't share anywhere, but living in the moment took precedence and it didn't happen. 
In addition to a lot happening for us in 2017, it was remarkably different than 2016. In 2016 we were comfortably settled in our house and it was one of the only years we didn't welcome a new child.
We added and finished wood flooring in our family room in January 2016, updated our fireplace in December 2016, but that was it. We consciously kept our calendar free so it wouldn't get in the way of little day to day activities, playing with neighbor friends until bed, hanging out with family, or spur-of-the-moment traveling.
As I thought back to all that happened in 2017, the best way to share it with you is how it unfolded.
When the year started we made a giant list of things we'd need to do to the house to have it completely finished. We started chipping away at it, not knowing what news we'd soon get.
Doug had been doing a great job at work and got a promotion which required re-location. His current position was a 30 minute drive to a nearby suburb, the new position in Chicago. Since our home was a 20 minute drive to any train line into the city, the commute to Chicago would be 2 hours each way. After much thought and prayer, we decided to finish our house, put it for sale, and move closer to the city (and near a good train line). It was hard to leave and we were sad to uproot our life there, but could not justify a 4 hour a day commute. Doug had to do this for a couple months while we were waiting for our house to sell and waiting to close on our new house. This made everything I'm about to share that much more difficult!
We remodeled our upstairs bathroom over the course of a few weekends with paint, a new light fixture, mirror, faucet, hardware, shower curtain, blinds, shelving, and hooks. We worked with the peach tile, and kept the almond tub, toilet, and sink since they were in good shape.
After that, we renovated our kitchen. It already was great - had hardwood floors, black granite countertops and backsplash, a fireplace, and desirable layout. Despite lots of natural light, the room felt dark. We updated it by refinishing the cabinets, purchasing new appliances, adding a new faucet, and putting in pendant lights over the countertop to match pendant lights we installed over the table when we first moved in. What a difference this made!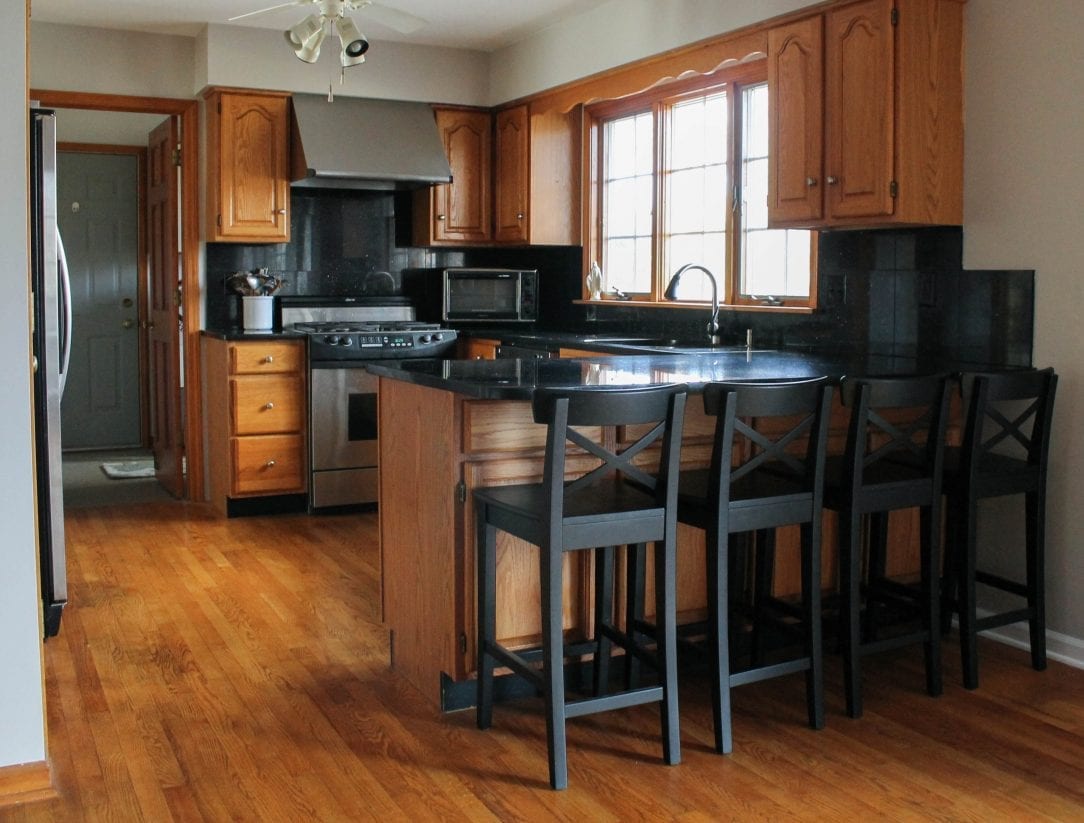 Although not a huge transformation, painting the trim and walls of our foyer, upstairs hallway, and downstairs hallway was a HUGE job! We replaced the drafty wooden door with a steel one with windows, took down the existing chandelier and spray painted it bronze, patched a million holes, and replaced the upstairs light fixture. We also replaced all the almond colored outlets and switches in the house with white ones.
We completed a gut rehab of our main floor / master bathroom. This included everything! New tub and tile walls, new pocelain tile floor, refinished vanity, new countertop and sinks, lighting, mirrors, faucets, toilet, shelving, hardware, and paint. This room was totally transformed and definitely helped sell the house. Especially since it was both the main floor powder room and the master bathroom. 
We put in a new front door, replaced / fixed our door bell, added new light fixtures, and relandscaped the front yard. 
We cleaned and re-stained our back decks, and refreshed the living space.
In addition to the renovation / getting-ready-to-sell projects, we purged like crazy! This house had over 3,800 sqft (including basement), and our new house has around 2,400 sqft (including basement). I do 40 bags in 40 days every year, but this year I got far more than 40 bags as we got ready for the move!
Not only did I get donate bags full of items we didn't need, I emptied out and sold much of our furniture. Many were items I still liked, looked hard for secondhand, or even refinished or painted. We were downsizing and space was at premium, so I resolved to start fresh, sell them, and use the money for new pieces when I was ready.
Doug had questioned if I needed to *actually* do 40 Bags in 40 Days this year in addition to organizing it. It was a lot of work, but helped immensely. I was reminded again why the challenge helps so many people! I felt detached, had a goal, kept motivated with the group and ecourse, and it later helped the home selling process go SO much better. Once we had everything packed up and moved into the new home - a few family members asked "that's it?" It made our new, smaller home feel much less cluttered.
In addition to doing 40 Bags in 40 Days, 2017 was the year I created our 40 day e-course. Hundreds signed up, many who had tried in previous years to do the challenge were finally able to complete it after taking the course! Thank you to all my followers and readers - those of you who have recently joined us and those who have been reading here for years now. I will be offering another one this year, you can sign up here.
Through the end of the winter/early spring, we had the kids in activities. Ben tried out karate in the winter, and the others were in gymnastics. This was the first year Ben played baseball and Lily played softball. Adam and Luke did soccer again, Doug was the coach for Adam's team. This was our first time doing three different sports at once - we were often spread all around the surrounding cities at different games, then traveling to another game after that, eating meals in the car, and running all over the place. Then getting word we'd have a showing and AHH! we needed to hurry clean the house and leave for another game. 
And right when we thought things couldn't get any busier, I became pregnant with Nora mid March. Yes, this is in the midst of everything - the renovations, potential move/job offer, activities, 40 bags in 40 days - all of it! Since late 2016, I had been feeling like someone in our family was missing. It wasn't a surprise, we were open to having a new baby, and we were overjoyed when we found out. 
In early April we were under contract to buy our new house.
It was marketed as a tear down; it needed (and still needs) a lot of work including major foundation work, but much of what it needs can be changed. What we loved about it were things that cannot be changed: it is on a private street, within walking distance to a train station with multiple express trains to Chicago, and walking distance to parks, concerts, festivals, a vibrant downtown, shops, coffee (haha!), the library, and so much more.
We intended to close in early May which would have left a couple months to complete some renovations, but there was an easement issue that needed to be worked out by the attorneys before we closed. Closing was delayed for 2.5 months, which left no time for renovations prior to moving in! 
With Doug as our realtor, we listed our house by the end of May and a month later after multiple offers.
All the upgrades and work we did renovating the house paid off. We received full list price for our house (and it was the most a house ever sold for in our neighborhood)! We had hoped to stay longer, and would have been happy to live there for many, many years. We hope the new owners enjoy it as much as we did in our 3 years there.
I should also mention that this was one of Doug's busiest years as a realtor. While he works in insurance full time, he got his real estate license when we sold our first home, and really has a gift for it. This year, he helped us buy and sell our houses, helped his cousin buy their first house, helped his parents sell a house they flipped, and currently has two homes listed for sale. Great job, Doug!
Some other big things that occured during this time of the year: 
we hosted a big party for Lily's 8

th

birthday

took the kids to see the Chicago Cubs. It really was the perfect day: it was on Kate's birthday, it was the first game for all of them, the Cubs were the defending World Series Champs, the kids got to see a grand slam in person, and the Cubs won the game so the kids were able to waive their W flag when the game was over

went out to breakfast often and hit some of our favorite local spots before moving
At the end of July (after tons of paperwork and back-and-forth negotiating regarding the easement), we were finally able to close on our new house! We closed on a Friday, moved on Saturday, cleaned the old house on Sunday, and closed on our old house early the following week. I had a blogging conference in Utah on Monday, and it was Luke's birthday as well.
We couldn't have done all of this without the help of our family and friends. Thank you to everyone who helped us survive this crazy time!!! 
We weren't able to complete any of the renovations at our new house prior to moving in. Since we had a lot of work to do on the basement/foundation, we stored most of our furniture, toys, and stuff in a POD on our driveway until the work was finished. We also didn't move in beds and most dressers, we wanted to renovate the upstairs and bedrooms first.
To say it was chaos here was an understatement! But despite that, we took advantage of this time before school started and did a lot as a family. Weekly concerts, exploring our new city, checking out the farmers market, going out to ice cream often, playing mini golf, visiting new parks, bike rides, walks, and spending time with our extended families. 
I feel like I should end the post here. But I've barely even started, haha! 
The first thing we did to start work on the new house was have an asbestos abatement company to remove the asbestos from the basement. 
Over the next couple months we had all the basement foundation work completed (all hired out), which included jacking up the house, adding new steel I-beams and posts, reinforcing bowing cinderblock walls, waterproofing with interior perimeter drain tile and extending downspouts to flow underground to the street, tuckpointing part of the cinderblock and stone foundation, filling cracks and patching part of the concrete floor. Once they were done, Doug painted the floor and walls, and installed carpet to make a play area for the kids.
I haven't taken pictures of this yet, since it looks like a playroom most of the time and still has plenty of moving boxes, but here's a picture before we started any work: 
and shortly after work started:
These months were especially difficult because in addition to having much of our stuff still loaded in the POD, we were trying to renovate the upstairs of our house (the bedrooms). We were working on one room at a time and moving matresses and bins of clothes from room to room as we progressed. Everyone knew which room would ultimately be theirs, but while they were temporarily living in another room, they called it their "rental room." 🙂
The house is old and had a lot of crumbling plaster on the ceilings. In two of the rooms the ceilings were covered with panneling and ceiling tiles to cover it. We removed all of this and added a shiplap type ceiling to 3 of the bedrooms to improve the look and hide the cracking / crumbling plaster. See our office ceiling project hereour office ceiling project here, and our bedroom ceiling here, we also did the girls' room pictured above. The dark trim was in bad shape, we painted each bedroom's trim, patched and reinforced the plaster walls, and gave them a fresh coat of paint. 
Upon completion, we completely moved out of the house (moved in with my parents) for a week while we had the wood floors refinished upstairs. We originally didn't know the condition of the floors, they looked pretty bad, and we considered carpeting everything. I'm so glad we went for it! 
And with all of this, came our share of other struggles.
My grandfather passed away in February. He had lived with my parents for the 7 years before this, and we visited them weekly growing up. He is such an integral part of who I am; I miss him very much, yet am thankful we had so many memories.
With the start of my pregnancy in March, I was extremely tired, struggled with health issues, and knew something was up. You can read all about it in this post, but we got through it, my family and friends rose up to help us, and after having Nora, am feeling much better.
As the year went on, we took time to go camping with the kids, visited a beach, and even spent a few days at an indoor waterpark in the Wisconsin Dells over Thanksgiving break. Our year certainly ended well as were able to celebrate Christmas Eve and Christmas Day with our family, celebrate our son Adam's 6th birthday the very next day, and welcome our precious daughter, Nora two days later on Doug's birthday, December 28th. 
It was the perfect way to end 2017!
2017 has certainaly been the busiest one on record for us, but without a doubt it has brought us closer together as a family. And dare I say it, has been the best year yet. 
I am so blessed have the support of friends and family like I do, and I'm truly touched by the prayers and kind words you all have offered us throughout the year. Thank you to all for your kindness, and I look forward to a great 2018 in our new home!